Today, one like or retweet = One fact about the Sun Trip Solar Adventure since its beginnings in 2013. https://t.co/byWYkPnWku

The idea for the Sun Trip came to founder Florian Bailly in 2010, as he was cycling from Savoy to Japan with his solar bike. His project was named "Sur la route du soleil levant" and there's a movie about it https://t.co/yPrPXIwQOJ (And a book, but that's collector's)
Some participants come back from one edition to the other. Raf Van Hulle and Dirk Huyghe took part in all the big Sun Trips. Also: Henri Jonckheere & Tom Papay '13,'15 Stephane Bertrand & Gregory Lewyllie '13,'18 Bernard Cauquil, Eric Morel & Michael Polak '15,'18
The first and only Sun Trip Tour so far took place in 2017. Shorter and more accessible than the classic Sun Trip, it's a good way to test one's material and competences before taking part in a bigger one. That was Mickaël Joguet's process '17,'18
Some solar bike have carried different participants over the years after being refurbished. Anick-Marie's '13 became Pauline's' 15, Elise and Denis' '15 become Louis & Michel's' 17, Cauquil's '15 became Francis' '17... This is probably not exhaustive.
Sun Trip 2015 was initially planned for Milan-Kazakhstan, but the route was changed 6 months prior to departure due to unstable geopolitics 😔 or have us a chance to befriend dynamic Turkish organizations such as @bisikletli in our Milan-Turkey-Milan discovery route.
@bisikletli 6\ The Sun Trip can be quite a family experience. We had couples but also siblings - the Bertets (Elise & Denis), the Colles (Camille & Auguste) and the Viguiers (Alain & Jean-Claude) - and father & son : The Jonckheeres (Henri & Antoine) and the Cauquils (Bernard & Yann)
@bisikletli 7\ Our oldest participant ever was Adalberto Cravero from Italy, 75 years old in 2015. He abandoned in Antalya, but still went back home on his self-made solar bike, "Red Arrow 4". He has a solar bike #batcave and comes visit us every time he can!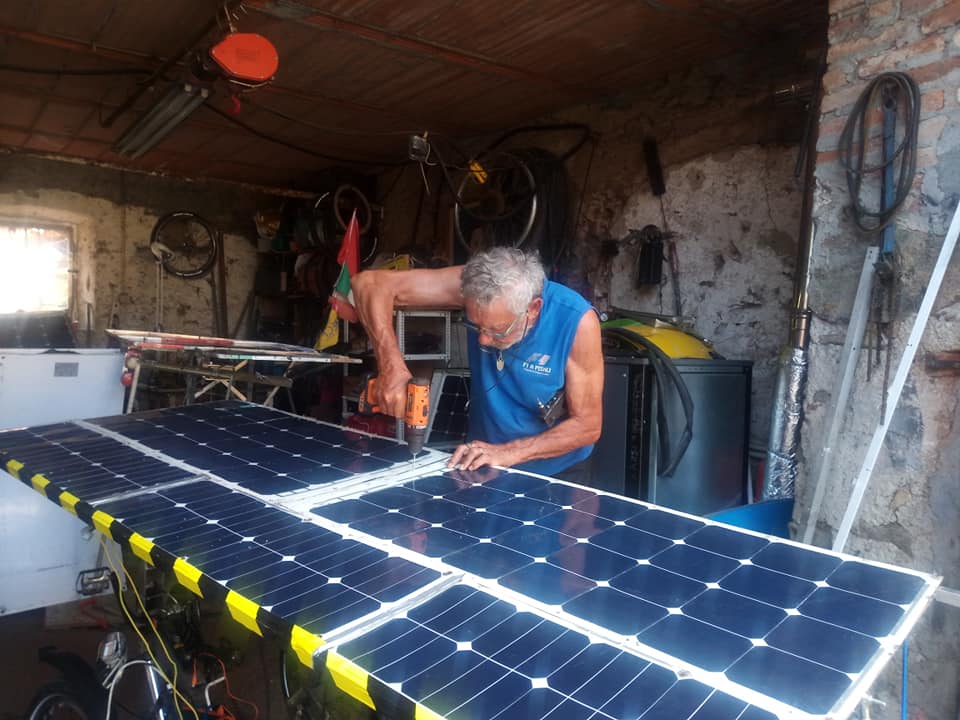 8/ Types of cycles we've seen on Suntrips: upright, tandem, recumbent (bike & trike), Pino hase (used single & tandem), velomobile, handbike, handbike tandem, rowbike tandem, recumbent tandem (bike and trike), long-John cargo, rear-cargo, convertible cargo lowrider & wooden cart.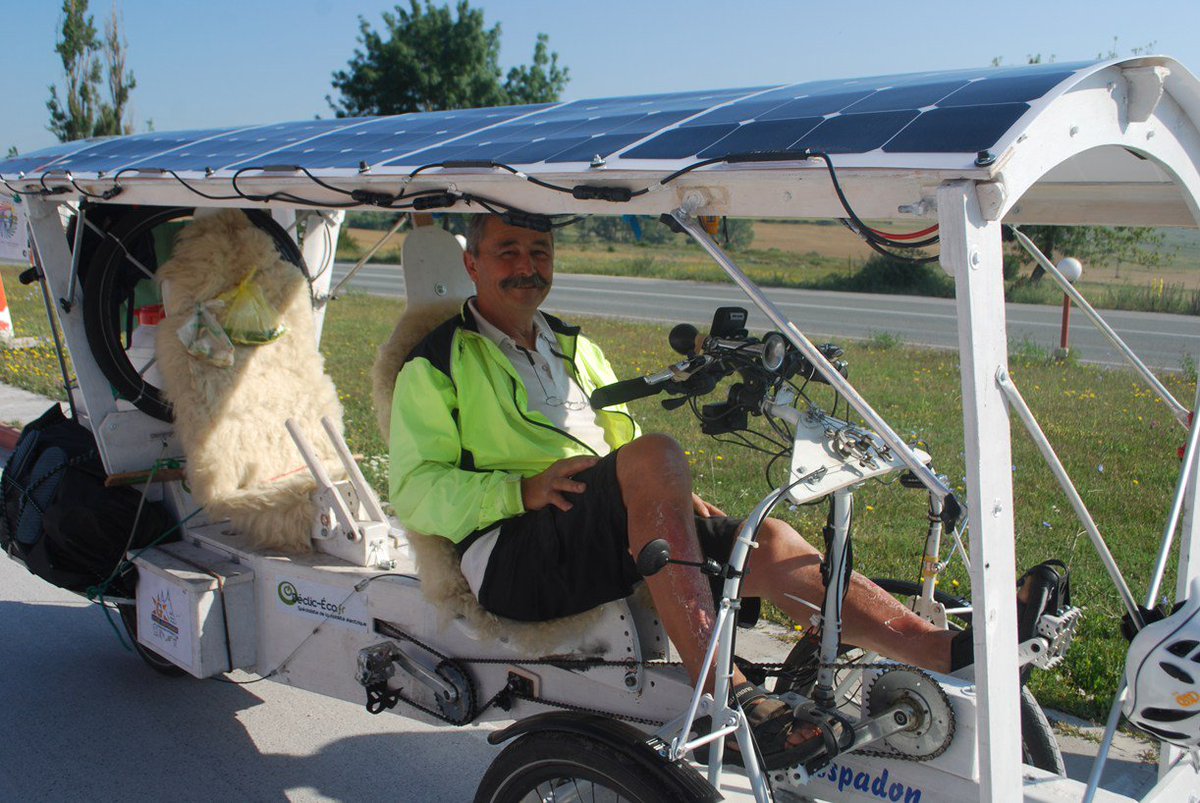 9/ The trailer you'll find most often used by Sun Trip participants is the monowheel 140L Globetrotter from Christian Touzé. We've seen it ten times so far! https://t.co/WdgLwkQQqF
10/ Our technical director Guillaume Devot has integrating our knowledge derived from the adventure to develop a sturdy solar monowheel trailer - #LaSunTravel https://t.co/Tss3WG1hzg Next step? Automated solar tracking - https://t.co/XkxZDl71qi
11/ We're hoping to see more riders complete the rally using only leg power and solar energy. In 2013, 10 made it to Astana. In 2015, 12 succeeded to get back to Milan. So far this year, there are 22 teams still riding 100% solar & muscle.